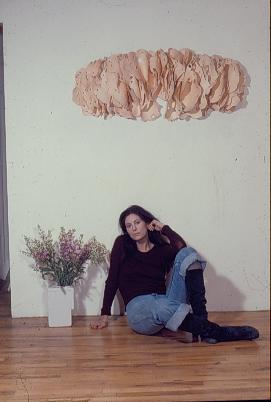 Hannah Wilke, with "My Favorite One," 1978
Hannah Wilke Collection & Archive, Los Angeles
The Hannah Wilke Collection & Archive, Los Angeles, was created in 1999 to preserve, exhibit, and selectively place the art of Hannah Wilke and reveal her influence on twentieth century contemporary art through the body of work she created during her life.

All work in the collection is from the estate of the late American feminist artist and includes drawings, ceramic and bronze sculpture, kneaded eraser and chewing gum assemblage, latex works, photographic work, mixed media, and performance-based video work.
Drawings in the Hannah Wilke Collection & Archive, Los Angeles, include early abstract drawings and collages, bird and flower drawings, and works on paper from "B.C.," "IntraVenus," and "Brushstrokes."

In the collection are individual and groups of terra cotta, ceramic, and bronze sculpture, as well as ceramic sculptures on boards such as "Sweet Sixteen" and "Elective Affinities." The collection also includes ceramic work from the "Generation Process" series and floor installations from "Of Relativity" and "Support, Foundation, Comfort." Sculptural assemblage series include "Needed-Eraser-Her," "Kneaded Erasers with Postcards," and S.O.S.Starificatio Object Series chewing gum works. Latex sculpture have included wall works such as "Melancholy Mama," "Pink Champagne" and "Ponder-r-rosa 4, White Plains, Yellow Rocks,"

Photographs and mixed media in the "S.O.S.Starification Object Series" as well as other iconic photographic work such as "Super-t-Art," "Gestures," "I Object, Memoirs of a Sugar Giver," "So Help Me Hannah," "IntraVenus," and the photographic installation "Advertisements for Living" are also in the collection, along with major installations such as the audio/visual work "Intercourse with..." and Hannah Wilke films and videos.

The Hannah Wilke Archive contains the artist's papers, correspondence, art related materials, and memorabilia and is invaluable as a historical resource and guide to Wilke's life and career. The Archive has been used for research by scholars from the University of Southern California, the University of California,Los Angeles, the Museum of Contemporary Art, Los Angeles, the Neuberger Museum of Art, Purchase, NY, Prestel Publishing, New York,and others. The Hannah Wilke Archive can be made available to qualified reseachers for specific projects on a case by case basis until future placement in a public institution.

The Hannah Wilke Collection & Archive, Los Angeles, is dedicated to continuing Hannah Wilke's legacy through placement of her work in public and private collections, presentation of one-woman exhibitions and inclusion in group shows, response to requests from interested scholars, art historians, curators, and collectors, and the development of written materials and publications about Wilke's work and history.